RDX PROMO SERVICES
GUARANTEED RADIO AIRPLAY
Working with tastemakers, national radio, syndicated programs, college & university, NPR & community radio, internet radio, blogs & podcasts as well as magazines - RDXPromo covers radio & media outlets that play independent & major label music. 

RDXPromo is operated by seasoned industry professionals that have worked in commercial radio, satellite radio, inflight airline programming, FACTOR & CARAS advisory members, major brand content delivery (Sam Goody's, Best Buy and more) as well as an award winning producer that works with Billboard charting artists, Grammy Award Winners and more - this gives us highly specialized insight & edge into all facets of the music industry of gaining radio airplay for your music. 
We digitally deliver and promote your music to radio worldwide.

Gain invaluable insight for your music:
See what songs generate the most response from radio & media.

View the overall average rating for your release (all radio/media members that rate your release 1 thru 5)

Read the feedback provided by every radio & media member that downloads your music.

See what areas of the world are responding most to your music via our Global Map of Promo hits.

And most importantly - we generate radio & media airplay and support for your music.

All the above are critical to help you plan, execute and market your release. The feedback provided by our members provides a decisive reflection of what song(s) are preferred and resonate most. This can be important when releasing future songs and / or even writing your next one.

The feedback also becomes part of your marketing message. Utilize feedback/quotes that best reflect your music and include them in all of your marketing materials online and offline.

PROMO HITS
provides a global overview map with dots indicating all of the areas where your music has been most responsive by our radio/media members. All of this becomes more and more important as you promote your music.

And most importantly of all - you'll be generating radio & media airplay and support globally.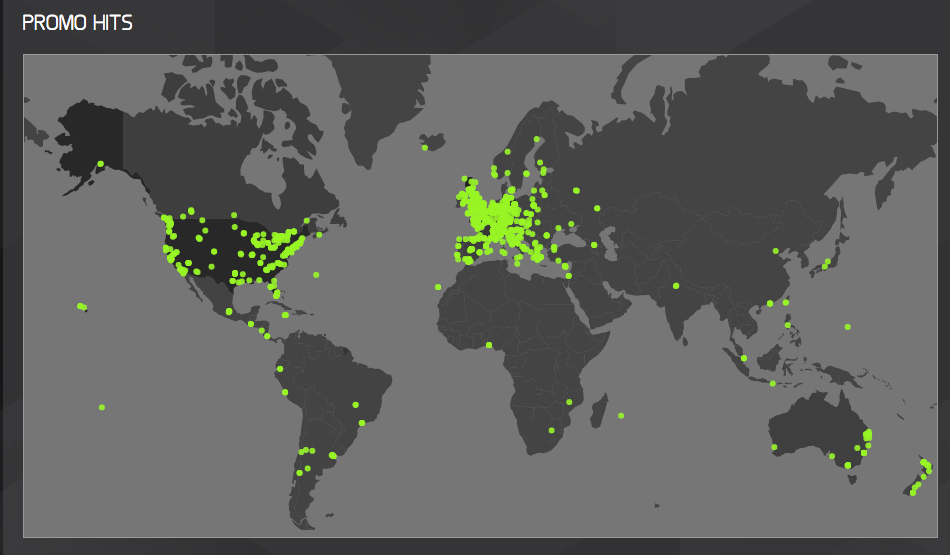 RDXPromo makes your music available to Internet radio and podcasts, AM/FM and Satellite & Internet Radio Stations, e-Zines, Magazines and other music-related outlets. You get more exposure - faster. Combined with the jet-fueled promotion RDXPromo delivers, we get your music out there in nanoseconds to the widest possible audience of music movers in radio & all other media.

With the demand of digital releases growing and increased shipping prices, digital promotion is becoming an important tool in  reaching Radio DJs and listeners worldwide - quickly and cost-effectively.This option provides you the best of both worlds. DJs can access high-quality WAV and/or 320K MP3 versions of your music instantly and you save on both CDs and shipping.

RDXPromo allows our members to air your music as soon as they download it. It's music delivery at the push of a button. 
PRICING
We accept Paypal, Visa, Mastercard & eTransfers (receipt provided)

Singles Starting at $300 USD and up for singles
E.P. Starting at $500 USD and up (2-5 songs) 
Album Starting at $950 USD and up (6-15 songs max - additional songs can be added with added pricing)
Certain genres are priced higher due to a larger number of radio stations & DJs subscribers which means more potential radio airplay and exposure for your music. 
Please contact us for pricing (Fill out a SUBMISSION FORM for more info and pricing details)

What is included:
Wav, 320K ID3 Tags, FLAC and AIFF (all formats are made available to all radio & media)

CD Cover

ID3 Tagging

(IRSC Codes, Name, Song, Label and more)

Automatic Anti-Piracy Advanced Watermarking

Release Info Optional: Bio, Infosheets (PDF) & upto 3 additional images
(i.e. photos for press/media to use)

ID3 TAGGING
Includes: IRSC Codes, Title, Artist, Album, Label/ Publisher, Copyright, Genre, Year and comments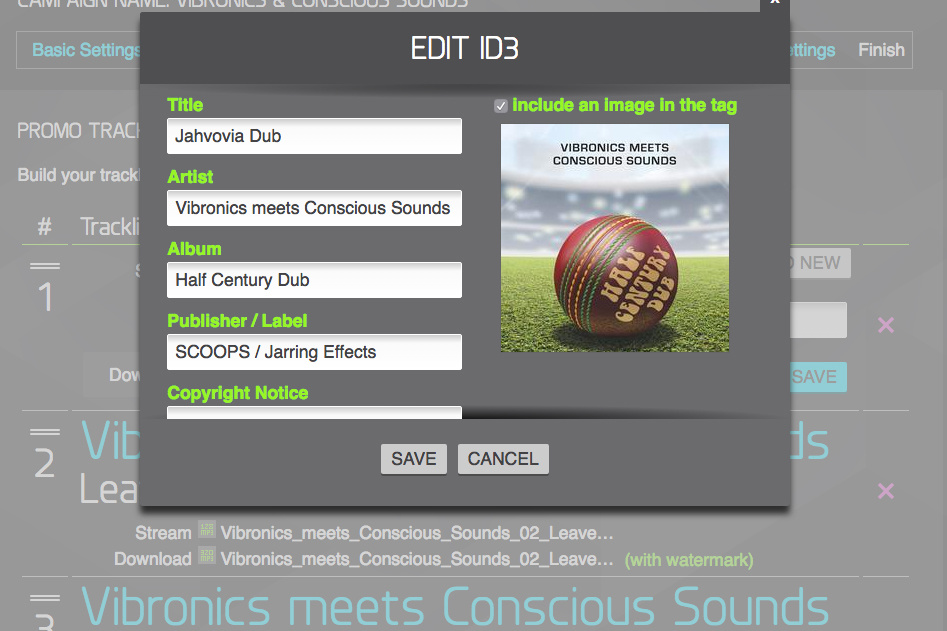 REPORTING:
Our service provides you with detailed feedback, ratings and download statistics in a easy-to-read PDF file sent 4 times during your promotional campaign.



FEEDBACK SAMPLE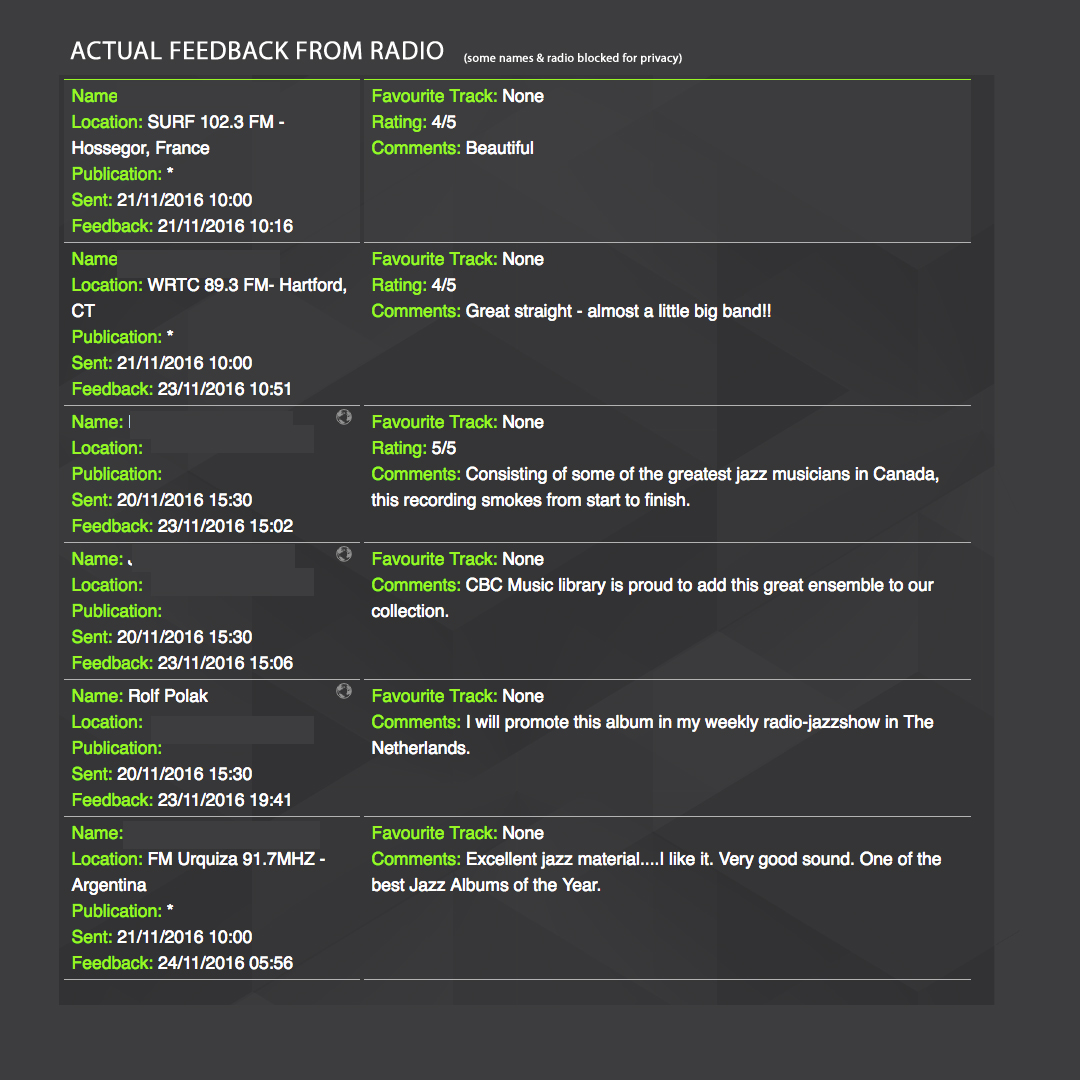 RATINGS SAMPLE





CAMPAIGN PREVIEW
We create a release page on the Radiodirectx website that is accessible by all radio & media members within your selected genre(s). Each member will be able to access your music 24/7, 7 days a week.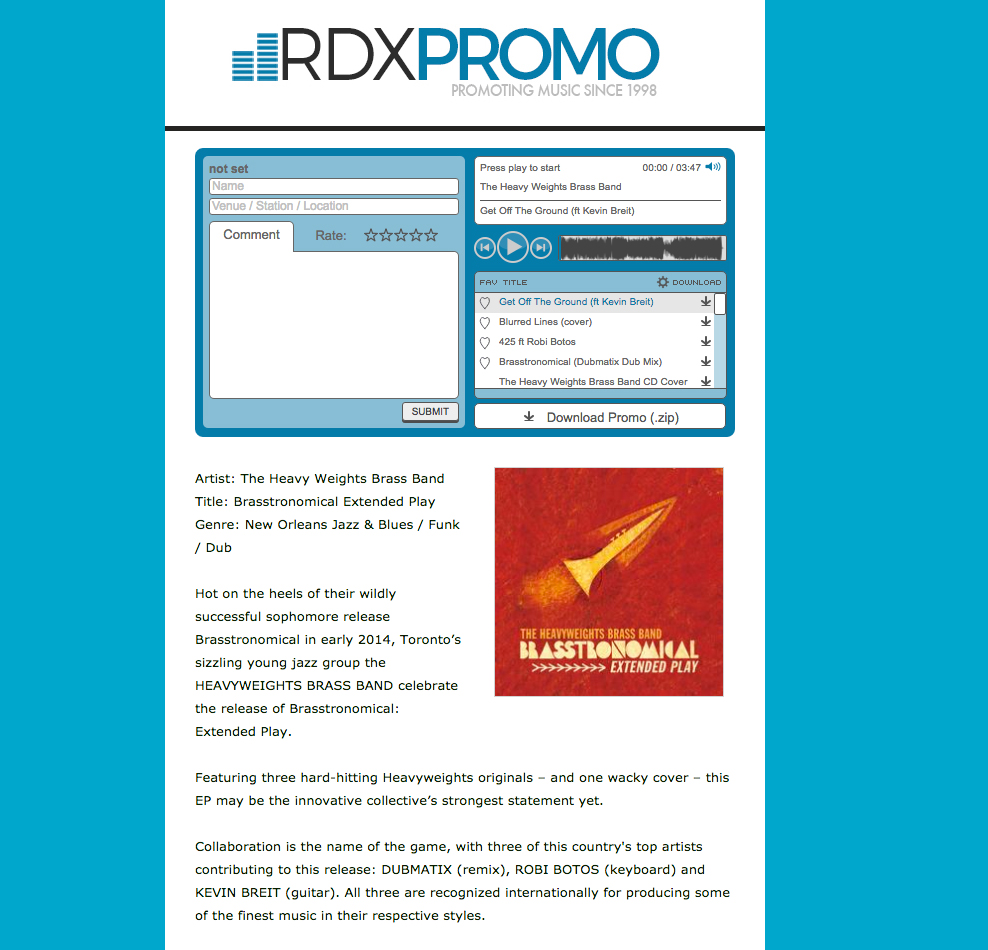 Exclusive Email Promotion
Exclusive Email Promotion - Radio & Media receive our email promotion for your release in their email inbox. They can preview and download of your music instantly. . This provides instant radio interest and airplay quickly.

Anti-Piracy Protection
All promotional campaigns are automatically enrolled in our anti-piracy protection program as developed and provided by Fatdrop, our delivery service. 
If you use JOVA, a unique code is automatically injected into each of your downloaded tracks. This identifies who downloaded it. The code doesn't affect the music file in any way and the downloader/listener won't know it's there unless you tell them. 

Advanced Watermarking is the most secure option and what we recommend when security is the highest priority. It embeds a signal into the audio which is very difficult to remove. It works on MP3, WAV, FLAC, and AIF files. For best audio quality we recommend uploading a lossless file and using the site to encode the files to an MP3. 

If you find unauthorised copies of your tracks on a file-sharing site, you can submit files to FATdrop and we can then read the file and check if there is a watermark. If there is, we can tell you who has leaked your track. Please be aware we can't be responsible for obtaining files from file sharing sites and we reserve the right not to scan for watermarks after the official release date for a campaign.



TRACKING YOUR RELEASE
Once your release is "live" it is available to all radio & media members 24/7. The second part of the service is a one-time eBlast to all radio & media members within your genre(s) - this is an exclusive email featuring your release - CD Cover, Bio, Streaming & Download audio file(s). 

It's a great way for us to help spotlight and generate radio & media interest for your release. As it is an exclusive eBlast and not a list of all new releases, we limit the number sent out to ensure that we do not overwhelm or overlap similar genre releases. We space them out over time - that is we do not send out 10 per day but rather 2 or 3 per day total (in all genres). This can take anywhere from 1-2 weeks before your eBlast is delivered.

Each radio and media member within your genre will be delivered your music. They can preview the audio samples and then download your songs if they feel it is something they can broadcast. 

The digital service only provides a list of who has downloaded your music. DJs are able to post comments / feedback for your release but are not obligated due to the nature of downloading music and the numerous individual songs that they compile weekly, it becomes overwhelming for them to do so. We do ask for them to provide any comments, playlists or feedback if possible and there is also a "Feedback / Comment" box located on your release page - available 24/7.

The main thing to keep in mind is that Radio & Media will generally preview music before downloading - as they only want music they are able to program or write about - which means that if they do download your music, the opportunity for airplay is excellent. Otherwise they would not download your music.

Refunds
Before sending out your release we will send you a link to approve your release and make any final changes. Once your release listing is "live"* (your release is active and available to our radio & media members for download) on RDXPromo, no refunds are provided. Refunds will only be provided if the request is made before the account is Live. If you'd like to cancel your account - please contact us